What is the IP Helper Service (iphlpsvc)?

If you have been using Microsoft Office for quite a while now, you may have heard of the IP Helper Service. This IP Helper Service is an Interface for Application programming. It enables efficient communications with the service. This service also offers you tunnel connectivity. That is if you are using IP version 6 and IP-HTTPS technologies. Any breakage of this service prevents is not the best for your computer. It prevents it from having smooth connectivity that the service provides.
If you want to access this service, click on the Start menu in your computer and type in the word "Services". This would take you directly to an interface like this: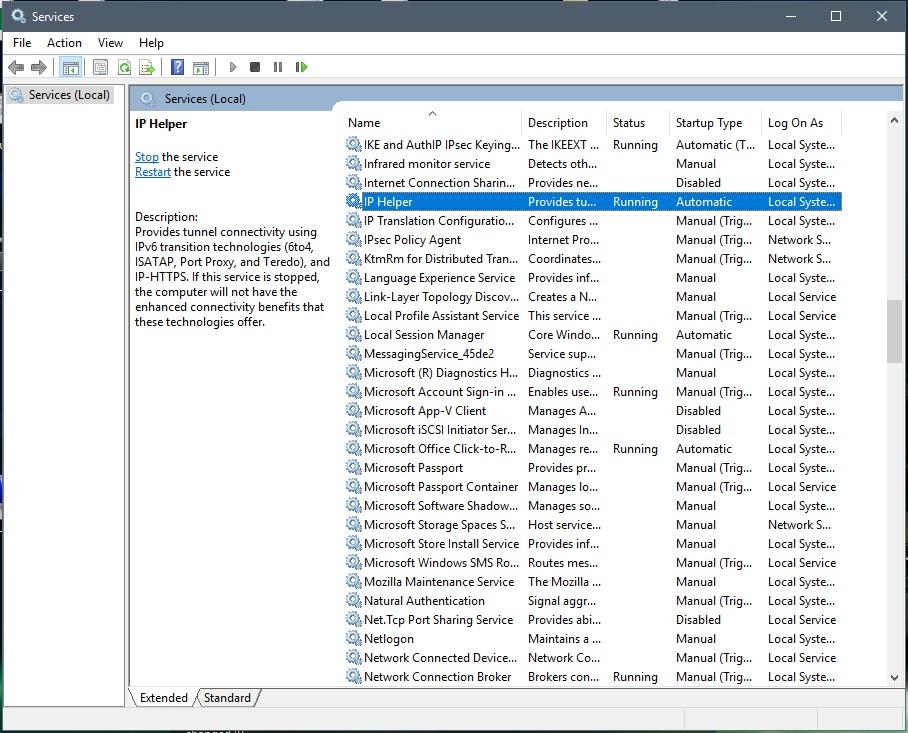 Perhaps, you may be finding it a bit difficult having a full understanding of what IP Helper Service is. There are tons of information on the subject matter on the web. This information would bore you with unnecessary knowledge. We do not intend to do that at all. The explanation we would give would be one of the best and purest description. This helper service offers support for systems with an IPv6 connection. It may not work for systems having an IPv4 connection. The IPv6 is a more recent connection module. It assigns a unique address to computers connected to the internet. This is in contrast to previous IP versions. The earlier versions enable only one IP for internet connectivity. But then, not all providers are supporting the IPv6.
The Internet Protocol Helper Service helps your local computer's network administration. It does this by enabling your system's applications to recover some information. This information relates to network configuration. This service also allows you to change the network configuration information. This service also offers you a notification scheme too. This notification scheme helps you a lot. They help notify your system when there is a change in the network configuration.
The IP Helper Service has data modules connected to the Management Information Base (MIB). This technology offers network management data to your system. The information appears as the MIB format type. A lot of other technologies like Router management API and Simple Network Management Protocol (SNMP) APIs use this data type too. These technologies are collectively explained in the Microsoft Information Management Base Reference. This is because all these technologies use the MIB API also.
The documents in the link above frequently make use of the words "interface" and "adapter". In the documents, the term "adapter" is a fancy name for a network adapter that meant a type of network hardware. It is also essential for you to know that adapters are a datalink-level abstraction. An "Interface" is a more recent term that is commonly mentioned in some IETF RFC documents. In RFC documents, an interface is referred to as an interface that denoted the attachment of a node to a link. It is also crucial for you to know that an interface is an equally an IP-level abstraction.
When you go to the documentation provided by the IP Helper Service, you will notice that both terms are often interchanged. So that where you ought to see the word "adapter", you may likely see "interface". There is a list of adapters in the IP Helper documentation. These adapters may probably have a loopback and a software interface.
The IP Helper Service offers help in these areas:
The Big Question: Can you Safely Disable the IP Helper Service (iphlpsvc)?
If your system does not use or support IPv6, you can freely stop the service. If you are a windows user, you may have had an encounter with the services.msc service console. This assists you to disable and enable windows services on your system. This service system comes on when your windows start too. The service does not warrant that you log into the Windows OS before you can use them. You can directly run this service from the Windows Command Prompt. That is to say that you can disable and also enable the service from your Windows command prompt. Start by clicking the Start icon on your Windows PC. This icon is at the bottom left of your system interface irrespective of the Windows you are using. For Windows 10, type "services.msc" in the search bar provided and tap the Enter key to proceed. And for Windows 7, type "Search Program and files" and tap the Enter key to proceed. This will usher you into the Windows Service console. Then, look for the IP Helper Service on the console and click on it.
After the click, a new interface appears. On this new interface, there are four tabs on it. These are the Recovery, General, Dependencies and the Log on tab. Enter the general tab and look up the "Startup type" option. A drop down menu will appear with another four options for you to choose. These options are Manual, Automatic, Disabled and the Delayed option. Click the Disabled option. Next, click on the "Automatic" option and then click "OK".
The process we discussed above is the very method you can use to disable the IP Helper Service manually. This you can do with the help of the services.msc for Windows users. This method is efficient, and we recommend it for you.
Issues with the IP Helper Service
It Consumes a lot of Memory Space
The IP Helper Service no doubt consumes a lot of your system memory space. But then, you can free up space for your system if you so desire. You do this by disabling the IP Helper Service as described above.
The most effective method to Improve Windows Performance by Stopping IP Helper Services.
There are two different ways you can use to disable this service. The most straightforward way is to locate Run, Menu and type in the word "services".
If you are not comfortable with the method just described above, follow through this path. Control Panel > Administrative Tools and Services. This would lead you to an interface that would display to you all of the services running on your PC. Most of the software you'll see there is Microsoft software. But some of them are the ones that you downloaded. It is vital for you to know the services which you intend to disable. Some of the services when disabled, may affect the way in which your computer works. This may not be pleasurable for you.
For instance, there is something called the DHCP client. This service acquires an IP address from your network adapters and routers.
But then, it is difficult for you to communicate with this service if your system does not have an IP address.
There are services you can disable without harming your computer. They include some services like a Printer and an iPhone service. If you are no longer using these services, you can disable. They will not constitute a harm to your computer.
Complete a Clean Boot for your Windows PC
You carry out a clean boot to start Windows with the help of some startup applications and drivers.
One of the reasons for you to perform this boot is to help you avoid some conflicts in software. This occurs as you run software, update software or when you install a software in your Windows PC.
Sometimes you encounter these software conflicts. When you do, you may like to diagnose or troubleshoot your system. This is to enable you to know the precise software conflict.
Try to reset your IP Address
Resetting your IP address is what you can do automatically or manually. The Windows framework forums offer a proper documentation on the subject matter. These forums also host the tools that would enable you to achieve this.
From time to time, the configuration of the IP address of your PC may become corrupted or damaged. It may be helpful for you to reset the TCP/IP settings of your PC. This would go a long way to help you. It can also help when you are facing memory usage problems.
But then, you have to know that the TCP/IP settings are integral Windows functions. This means that you can't just reset it easily. There is an auxiliary utility component you can use to help you reset the TCP/IP of your system. This is the NetShell Utility function.
Conclusion of Safety Issues in Disabling IP Helper iphlpsvc Service
The article covered above addresses the central question for which it was intended. That is whether you can disable the IP Helper Service. Of course! You can. But then, there are services that your system need to function. Make sure that you do not disable them so that you'll not end up regretting it. Always feel free to disable the IP Helper Service for your system if your system doesn't support IPv6.