Best free Password Manager Software for 2023
- There is hardly any online account or profile that does not need a means of authentication. There are a large number of services and platforms that needs you to secure your profile. The only means of securing the profile is passwords. As good as a password as our means of authentication is, it works against us as much as it works for us. Half of the time it actually prevents our access if we forget it. for security reasons, we always choose not to use the same password for the many accounts we own. This results in tons of password for different web platforms and apps. The danger and risk of using simpler passwords because of hackers make it even harder. This is because we use harder passwords for tons of authentication. As a result of this, it is important to consider having a password manager.
What are Best Free Password Managers 2023?
Password managers are software that will save your password as long as they installed on your PC. They do this by storing the credentials in digital vaults using tight encryption. The advantage of the password manager is that it provides your details whenever you need it. Also, it makes it harder for a hacker to compromise your account or profile thanks to the encryption. Also, it is safer than penning down your credentials in a book. Password managers come in different forms. There are some that are for personal computers (PC) and those that are for smartphones. The ones that can are for smartphones are not that common. This is because smartphones come with their own password managers. Although you cannot access them, as long as you use it on the phone, it will remember it. You should know that Google is actually the biggest password manager in the World. This is because there are a lot of passwords we back up or save on our google chrome browser. That aside, there are lots of password manager software that you can use for your PC or mobile device.
Best Types of Password Managers for Free
One thing that is the same regardless of the type of Password manager software you use is the function. All password managers integrate with browsers to save the passwords of a user on a web platform. Some of them also have the resources to store biometrics data i.e. fingerprints, retina, etc.
These password managers work both offline and online. The usefulness of the password managers makes them a must have for everyone. Due to their importance, Password managers come both as premium and free software. They both offer the same basic function which is to protect your passwords. Premium editions do have added features. This article will highlight the best free Password manager applications for personal computers. Note: Some of the password managers on the list below also have smartphone versions. You will do good to check them out for your smartphones.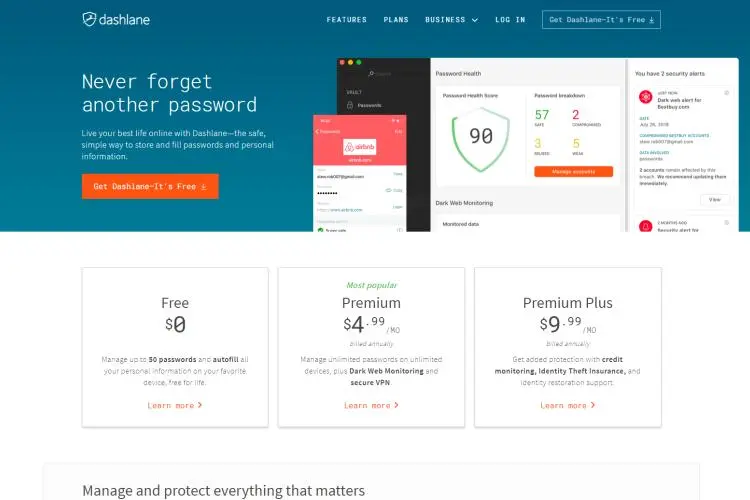 Dashlane offers superb credentials (password) security for all computer browsers or smartphone devices. The smartphone versions are available on the google play store or the app store. It is currently one of the best password managers for any device that can access the internet. It is available both in free and premium plans. Either one you choose, you still get to enjoy:
· one-click password generation;
· autofill and auto login: Dashlane comes with support that can help you when filling web forms
· the ability to Import credentials (account IDs and passwords) from other devices;
· It also serves as a digital wallet for storing credit and debit cards.
· It also always updates any password change that occurs on any account; etc.
It can do all this because it is more than just software. it has browser plugins for your computer that allow you to sync your credentials on many devices. The main feature of Dashlane Premium is that it allows unlimited sharing and syncing. The premium features are currently priced at $39.96 per year ($3.33 monthly).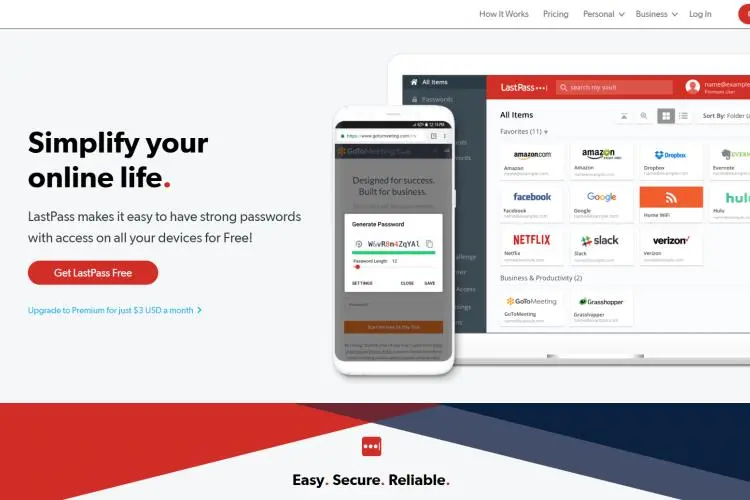 Key Features:
· Auto form completion
· Strong password generator
· Stores unlimited logins
One thing about LastPass is it has big similarities to Dashlane. In fact, you should not settle for Dashlane without trying out LastPass first, and vice versa. You can store any digital information on LastPass including social security numbers! It also comes in two different editions– free and premium. You still get to store and generate as many different passwords as you want. To access your passwords, you need to use a master password to unlock the other passwords. This makes it even more secure. There is a feature which you can use to export all your credentials to another password manager. It also always update its database of phishing websites. Thus, it would refuse to autofill forms on registered phishing websites. Also, LastPass allows syncing of credentials across all internet enabled device. To do this, you need to log in to your LastPass account via http://www.lastpass.com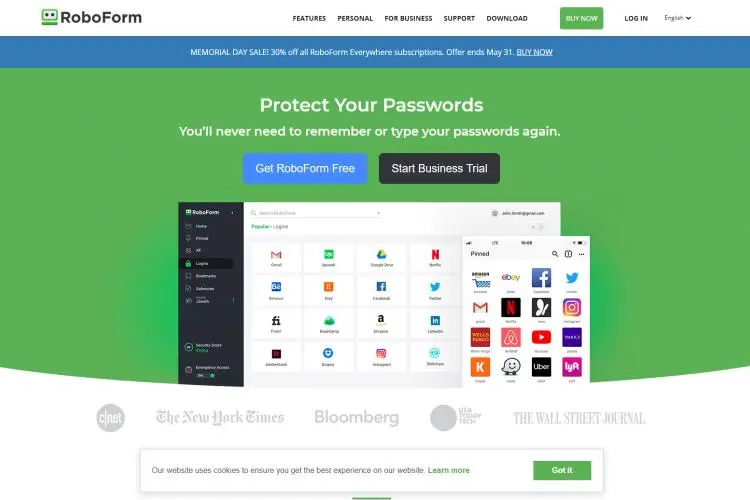 Key Features:
· Stores unlimited logins
· Access to passwords offline
· Auto captures passwords
RoboForm is one of the oldest password manager applications in the market. It has everything you can ever need to protect your online profiles. It claims to be the #1 password manager software in the world, and not unreasonably so. Roboform features a neat user friendly interface. Roboform allows users to store unlimited passwords for free. this is something other password managers cannot boast of because they have restrictions. Most of the other password managers set a limit for their free version. It also supports features like:
– auto filling of forms online
– auto login for websites
– one-click login
Compared to the rest –other password managers – its features are pretty limited. That aside, it is a very good password manager. Roboform premium allows users to store their credentials and access them anywhere. The premium version is available in what the developers call RoboForm Everywhere. Roboform Everywhere has features like:
– cloud backup
– ability to gain emergency access yourself to your profiles.
The premium version costs $20 per annum. There is a discount if you go for the family subscription. Roboform has both desktop and mobile version which you can download for your device.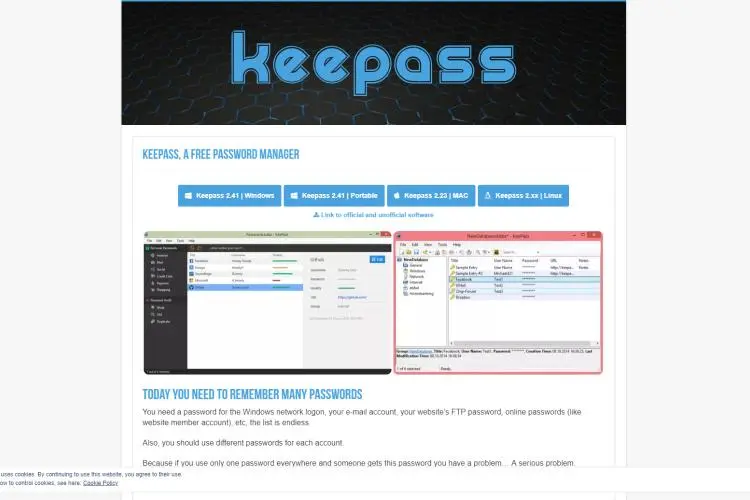 Key Features:
· Superb Password generator
· Does not need any installation
· Has provisions to store payment details for online transactions
KeyPass is a much more new password manager that has since made a name for itself. It is like Roboform with even more limited features. KeePass stores usernames, passwords and other digital information about you on your computer. These files –XML, CSV, HTML, etc. can then shared to other computers.
KeePass also has auto fill and auto login supports for users. It also has two factors authentication when logging in. it also has the ability to generate super strong passwords for websites. KeePass is very unique in its own way in that you do not have to install it on your computer. It has a portable installer which allows it to run via USB from any device you have the software on. KeePass does not have mobile support. It is only available for computers – windows, Macs, and Linux. There is an unofficial port of the software for mobile device and should be used at the owner's risk. There are much better mobile password managers to use on your mobile device.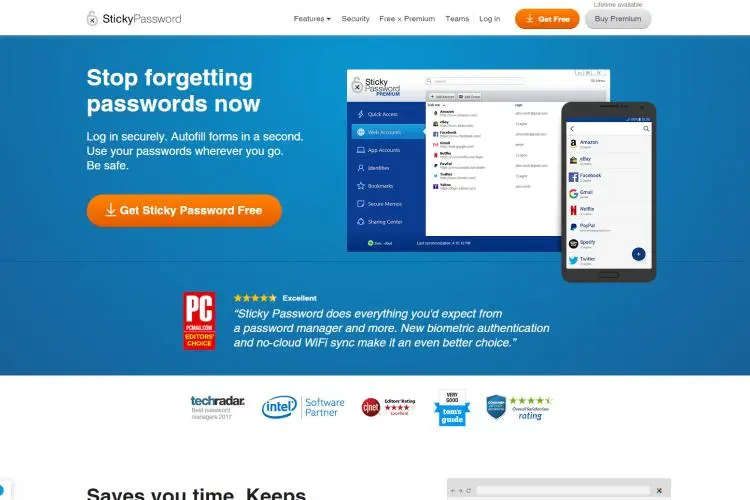 · Extra encryptions for financial security
· Options to export and import passwords
· Can generate strong passwords
This is the last password manager on the list. Sticky Password is one of the best, most secure Password Managers out there. Developed by the team that created AVG Antivirus – one of the best antivirus programs in the world. Sticky Password also comes with two-factor authentication. It is available for computer and mobile devices. Sticky Password comes in two flavors – free and premium. While you have everything you need on the free edition, the premium edition allows users to sync. there is also the option to use cloud backup as a premium user. The premium edition costs $29.99 a year and there is a lifetime license for $149.99. The lifetime license is unique only to Sticky Password i.e. other password managers do not offer this. Sticky Password does not store passwords alone, it can also generate them. It can also store user's payment details to ease online transactions. Sticky Password also has the ability to sync data using Wi-Fi connection. This is very useful if the user does not want to use cloud syncing.
Conclusion on Best Free Password Manager Software for 2023
As good as these password managers are, it is important to use them with caution. This access might be by friends or families who have access to your computer or mobile device. That aside, password managers are worth it. In fact, they are the only means of protecting our profiles in case we forget the password. Unless the world switches to the use of biometric data as a means of authentication, there will always be a need for password managers. Go get yourself one!