Are you looking for how to convert a YouTube video to MP3? Technically, you need to select your favorite YouTube video and download it. After that, you have to open this file in editing software, such as iMove and Adobe Premier. Complete the required process to convert the file in MP3. Well, is not it a long procedure? What to do then? MP3 converters can be helpful in such a situation.

Sometimes it happens that we love a YouTube video but we would like to save it as MP3 so that we can hear it again whenever we want. It also happens that we would like to save a YouTube motivational video or our favorite sons in MP3 so that we can listen to it during our office hours. This is one of the ways to be creative and productive as well as catching up on our favorite interviews or videos. Are you also one of those who would like to convert YouTube to MP3? If yes, then you are in the right place.
Summary of Best Free YouTube to MP3 Converters
| | | |
| --- | --- | --- |
| Rank In This Article | Website Name | PAID or FREE |
| 1 | Converto | Free |
| 2 | YTD Video Downloader | Free and Paid |
| 3 | Y2Mate | Free |
| 4 | YoutubeMP3 | Free |
Whenever you do a search to get a YouTube to MP3 converter, you get lots of tools. You should not click on them blindly as all of them are not worthy enough to use. Some of them are paid, as well. So, we have done our research and found some trustworthy websites that can fulfill this desire.
Best Free YouTube to MP3 Converter 2023

Today, you are going to read about their features. Also, we have created a list so that it will be easy for you to find any of your favorite. To save your time, continue reading to know about our selection of free YouTube to MP3 converter 2023.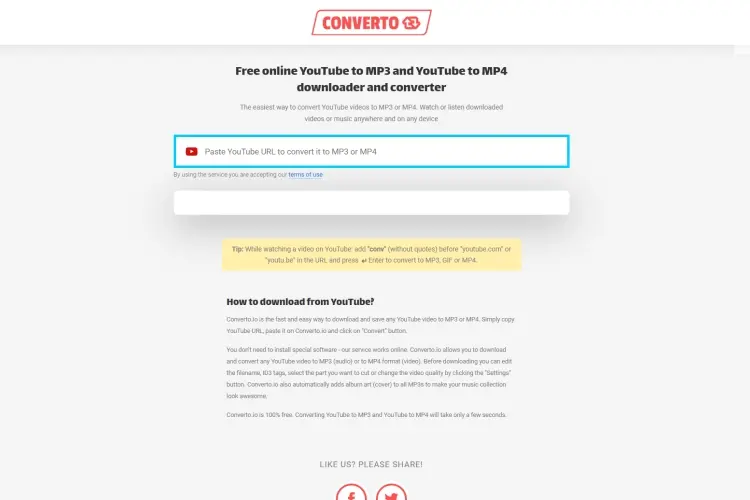 Converto is an online tool that allows users to convert their YouTube videos to MP3 easily. It works for a number of platforms. It does not just allow us to extract video to MP3, but also MP4 format. It does not want you to be a technology-friendly person. Its process is simple.
How to Use?
Copy the URL of the YouTube video.
Paste it in the Converto tool.
Select the format.
Click the button 'convert'.
That's it! Wait for the required time and here you go.
Once the file is converted, you will get a download link to download the converted audio file.
Features
Easy-to-use
User-friendly
Secure and trustworthy
You can get your video converted into different formats.
A web-based tool
Options to set up video quality
Once you convert the file, you can edit the ID3 tags and filenames as per your requirements. Also, you can add your videos to create an album.
Pros
It comes with free features.
It does not show ads, so you do not need to open the webpage of the advertisement to download the converted file.
Useful interface
Artistic design
Cons
It comes with limited features.
You can download the file from the download link within 24 hours.
Converto does not demand specific software to complete the process. Also, the entire procedure is very effective. So, it is a good option if you are searching for a good option to convert a YouTube video.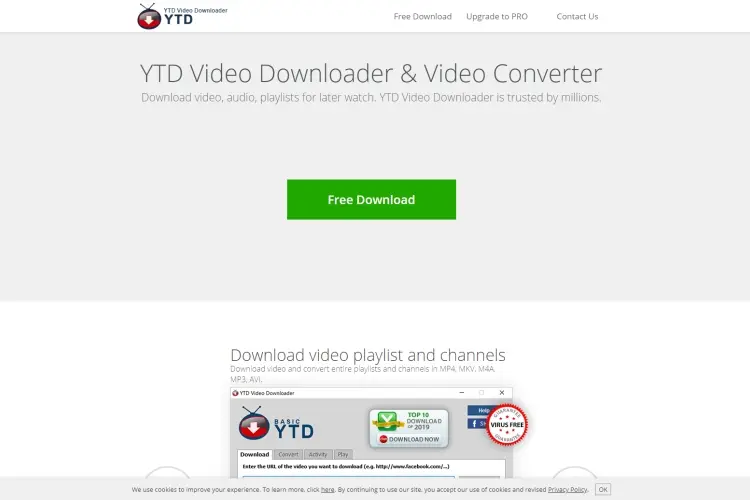 The next tool in our list is none other than the YTD video downloader. This software is not specifically for YouTube videos, but you can use it for lots of other social platforms. These platforms include YouTube, Dailymotion, and Facebook, etc. You can convert the desired video into video or audio formats. You can get benefit from its features for free. Some of its features are pro so you have to go for the paid version to use them. Well, free features are good enough that you do not need to go for the premium features.
Features
Some of the most prominent features of this software include;
A player and converter
Free-to-use
User-friendly interface
Up-to-date
The latest version is the best among other updates
You can pause and resume the downloads on the basis of your requirements
How to Use?
Copy the URL of the video that you want to convert.
Go to the official website of YTD.
Paste the URL into the specific block.
Select the download quality.
Browse and select the destination where you want to save the converted file into your device or computer.
You will get the converted video.
Pros
If you skip anything, then at the end you can make the required edits.
Outstanding user experience.
You can choose the download quality as per your requirement.
The process is easy to follow.
It just takes a few minutes to get the converted file.
Cons
The free version of the tool does not allow us to convert or download more than one video at a time.
The speed of download is limited. It may drop if your internet speed is not good.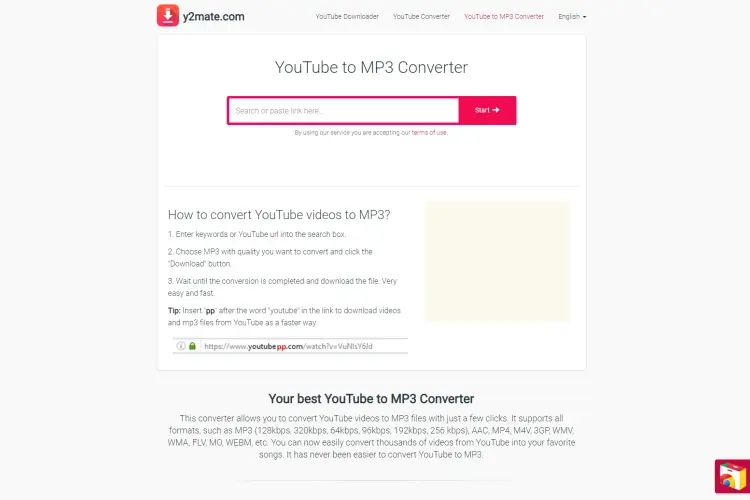 Y2Mate is one of the most used and popular software. You do not need to download this tool to get benefit from its features. Its user-friendly features make it one of the most famous MP3 converters. It also has the option to search for a specific video. It is easy and fast to use.
How to Use?
Copy the URL of the video that you want to convert.
Paste the URL in the specific box of Y2Mate.
You can also search for a video directly by writing its keywords in the box.
Select the video.
Click the button to start.
You will get the video.
Select the format and resolution of the video.
Click the download button.
Wait for a while and download the converted video.
Pros
It supports almost all audio and video formats.
Easy conversion.
You can upload converted videos to the cloud.
It supports different platforms.
It supports almost all web browsers.
The users do not need registration.
Unlimited conversions and downloads
Cons
You may get ads that seem annoying
Medium quality mp3 files
When you go for converting a YouTube video to MP3 from this software, you will find it a hassle-free procedure. Also, you do not need any kind of registration. In fact, you can upload the converted file directly to the cloud, Google Drive, or DropBox. In this way, you can save storage in your device. Further, you can access the converted videos from different devices.
It supports various formats including 3gp, M4V, MP4, MP3, MO, FLV, and WMV, etc. In addition to it, you can edit the file even after downloading it. No wonder, if you need to convert and download one video or thousand. It allows you without any hassle. Even it does not even ask for registration. Determining its valuable feature will assist you in making a selection among different conversion tools.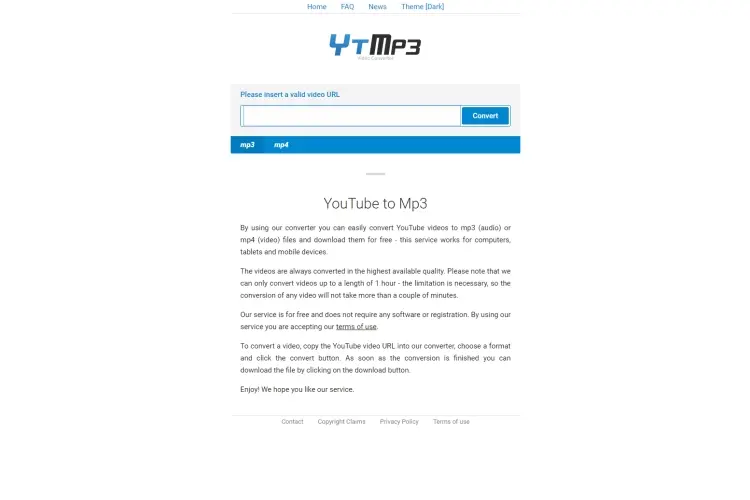 As the name shows, this converter allows you to convert YouTube videos to MP3 and MP4. Once you are done with the conversion, you can easily download the converted video. This software does not ask you to pay even a single penny to get the converted video. It is compatible with almost all devices including mobiles, tablets, and computers. You will always get the converted videos in high quality. Read the terms of uses when you are planning to use it. The website includes complete details.
How to Use?
Copy the URL of a YouTube video.
Paste it into the specific box.
Select the format in which you want to convert the video.
Click on the button 'convert'.
You can download the file once the process is completed.
Pros
User-friendly
Easy-to-use
100% secure
All of its features are for free
It supports both video and audio files
The rate of conversion depends on the traffic of the website.
All features are available on a single platform.
It is a win to win situation for the user as he does not need to register while getting the desired file.
Cons
You get several ads that show up in the new tab when the user clicks on the convert button.
Bottom Line
Software that allows converting videos in different formats is helpful for the users. In this way, you can use videos or audios for a different purpose. Musicians are uploading their music videos on YouTube daily. Their followers want to listen to their music but they prefer to take the files in audio format. In this way, they can enjoy their favorite music easily. So, we have provided some of the most used and the best free YouTube to MP3 converter 2023. You can easily pick any of them by knowing their feature. We have provided all the required details in this article.
Hopefully, you have found a solution through this article. If you have used any other audio converter that has worked amazingly, let us know! Feel free to share your thoughts in the comments below. We would love to hear your feedback and your love for MP3 converters.