Working with a single monitor has proven to be tedious for most IT specialists and other computer enthusiasts. Dual-monitor tools are solutions to the difficulties being faced when working on your projects.

To ensure maximum efficiency when working with your projects, dual-monitor tools can separate your PC monitor into two, hence, increasing your productivity. When you use the tools on your Windows 7 or 10 PC, the view will be expanded and it will look as if you are using two monitors at once.
Dual Monitor Tools are software packages specially designed for users of the Windows operating system (Windows 7 or 10) with dual or multiple setups. These tools will help you expand and extend the capacity of your desktop screen.
Within one screen, you can have dual or multiple monitors and get to do your projects much more efficiently and faster.
The following are the functions the dual monitor tools can provide for you.
· You can extend the Windows's view of your desktop.
· Enables you to manage the Windows taskbar to function well.
· The multi-monitor feature allows you to select different wallpapers and screensavers for each monitor.
· Allows you to move an active application window to the next monitor.
To make the best decision on your choice of the dual monitor tools to use for your Windows PC; a highlight of the best dual monitor tools will be given in this section. From the tools to be listed , without question, you will be able to select one that will meet your immediate needs.
The best dual monitor tools you can download and install on your Windows PC are highlighted as follows.
DisplayFusion Pro - tool link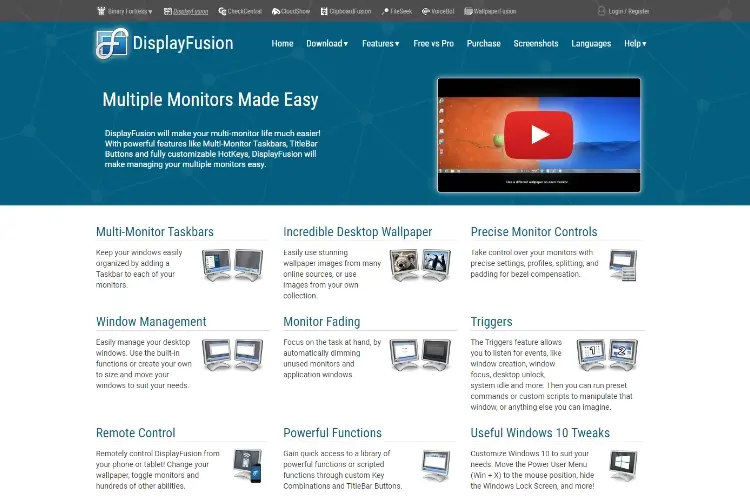 DisplayFusion Pro is one of the best dual monitor tools you can trust for a great experience on your Windows PC. This software offers you virtually all you need for your dual or multiple setups. The software has two versions; a free version and a pro version which you purchase for $29.
The Pro version offers more features which include; multi-monitor taskbars or screensavers, triggers, window position profiles, desktop icon profiles, remote control, monitor fading, Windows lock screen customization settings and the Alt + Tab Handler.
You will be able to customize the dual monitor display on your Windows PC with DisplayFusion Pro. This software offers more extensive functions than other alternative tools.
Some of the features which make this software more extensive than others are listed below.
Features
· Enables you to use wallpaper images from different sources online or use images already saved on your PC.
· Gives you access to powerful functions through custom key combinations and title bar buttons.
· You can display your screen saver across all monitors or different screen saver on each monitor.
· Management of your desktop windows is made easy with this tool.
· DisplayFusion 's Alt+Tab Handler gives you more flexibility.
· You can keep your Windows PC more organized with the Multi-Monitor Taskbar feature.
· You can get to control your DisplayFusion Pro remotely from your phone or tablet.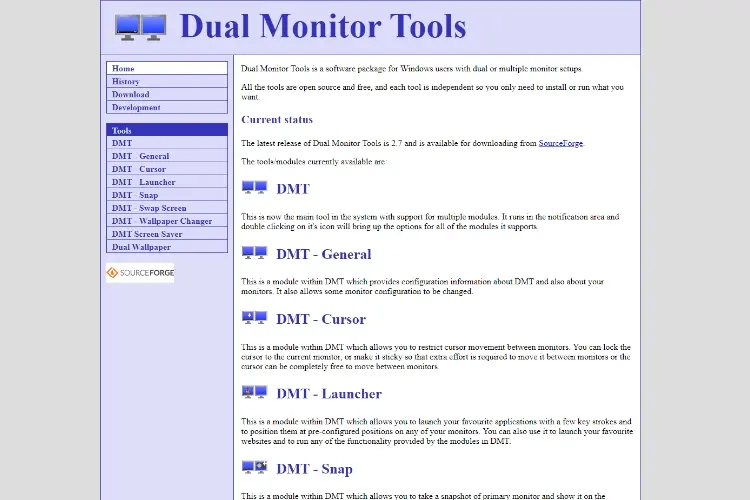 This is important application software that offers a lot of features for dual-monitor setups. For you to install this lightweight monitor tool, you will need less than one MB storage space. It contains multi-monitor tools for your easy dual-monitor experience.
Dual monitor tools comprise of five different modules which include: DMT Launcher, Cursor, Swap Screen, Wallpaper Changer and Snap.
DMT Launcher is the primary module of this software that enables you to launch programs by entering magic words or codes into the text box.
Features
· Provides configuration information about your monitors and allows the configuration of some monitor to be changed .
· Restriction of cursor movement between monitors.
· It allows you to take a snapshot of the current image on the primary monitor and display it on the secondary monitor.
· You can launch your favorite applications and websites.
· You can move an active application window to the next monitor.
· Enables the display of wallpaper as your screen saver.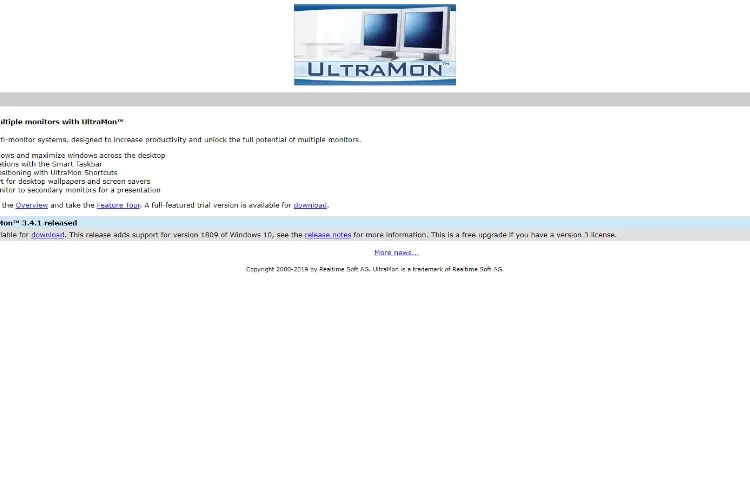 UltraMon offers you extensive features to set up the dual monitor display on your Windows PC. This software is designed to increase productivity and it operates on 32 and 64-bit Windows PC as well as Windows XP, 7, 8, and 10.
To use this software, you can purchase at $39.95 only. It does not have a free version unlike DisplayFusion Pro and at that price, it contains all the features you need in a dual monitor tool. However, you can use UltraMon 30-day trial software for free by downloading it right away from its official website.
Features
· You can extend taskbar to the second display of the monitor with the taskbar extension feature.
· The Smart Taskbar enables you to manage more applications.
· You can use the Maximize desktop button to move and expand the windows across the desktop.
· With the mirroring tool, you can mirror the primary VDU to the secondary for presentations.
· UltraMon enables you to select different wallpapers or screen savers on each monitor.
Multimon Taskbar Pro - tool link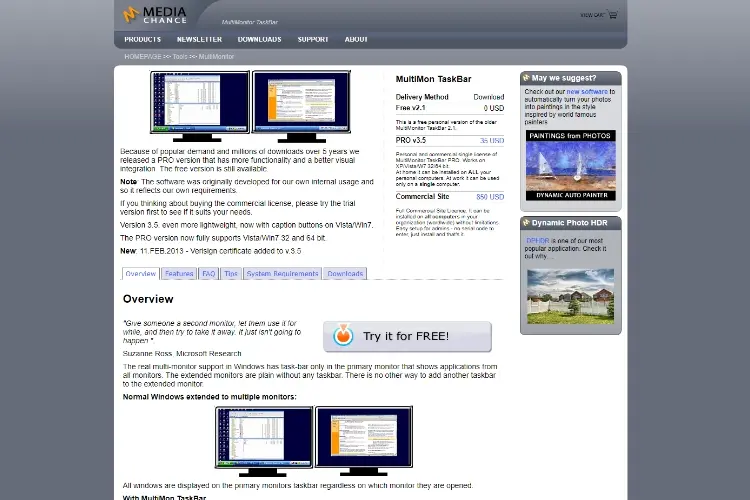 This dual-monitor tool is a lightweight software serving as an alternative to DisplayFusion Pro. Multimon gives offers you triple monitor setup. You can select between the MultiMon TaskBar 2.1 and TaskBar Pro 3.5, to use the software. Both programs retail at $35 each and they can work with 32 or 64-bit Windows operating system.
If you are to use TaskBar 2.1, it will not give you more than the extra VDU taskbars because it is a free version. Notwithstanding, it has a handy Clipboard Extender tool which the Pro version has too. This tool helps to save the text copied from a clipboard to select many items on the secondary taskbar. The TaskBar Pro 3.5 version costs $35 and you can expand windows across two monitors and move them easily to another monitor.
Features
· Enables you to stretch one program across multiple desktops.
· Supports theme for second/third taskbar.
· Provides better handling of windows between VDUs with different resolutions.
Actual Multiple Monitors - tool link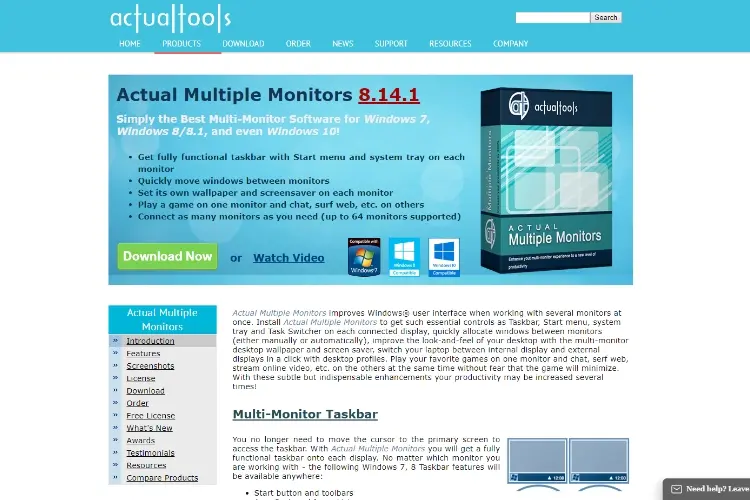 This dual-monitor tool is adequately equipped with the key features you will need. Actual Multiple Monitors provides essential features such as; Taskbar, Start menu, system tray, and Task Switcher.
This program operates on 32 and 64-bit Windows Operating System as well as Windows 7, 8, or 10. Actual Multiple Monitor offers a 30-day trial but you have to pay $40 to get using it afterward.
Features
· Provides a fully functional taskbar onto each VDU and features like the start button, toolbars, notification area, custom taskbar, and others.
· You will get immediate access to advanced window functions.
· With custom hotkeys feature, most functions of the programs can be activated and customized.
· Actual Multiple Monitors enhances the multi-monitor gaming experience for gamers.
· The desktop divider feature enables you to divide the whole large desktop or each monitor into multiple non-intersecting tiles.
· You can snap your windows with the Window Snapping feature.
· You will be able to set up any type of desktop's background on several displays.
· Gives you the ability to expand any screensaver over the entire desktop or each monitor.
· The desktop mirroring feature allows you to clone the primary monitor to two or more additional monitors. You also can give a report or a presentation with this feature.
Download Actual Multiple Monitors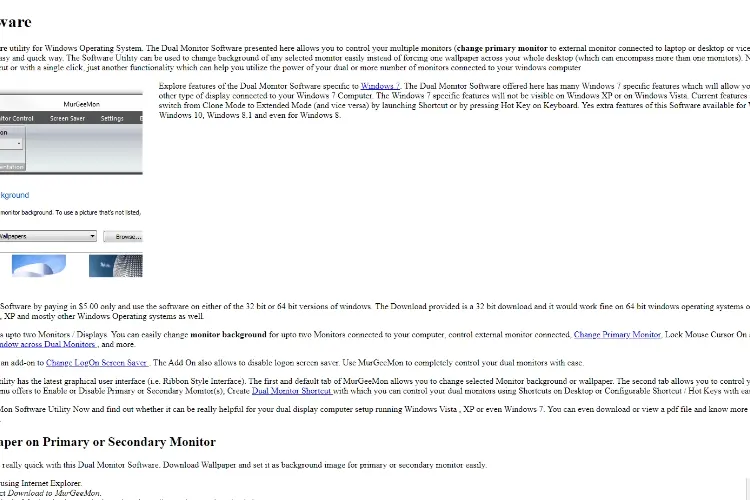 MurGeeMon is a dual monitor tool for Windows PC which helps you control your multiple monitors. You can change the primary display to the external monitor without difficulty. Also, you can disable the secondary monitor and enable the secondary monitor. This software utility can be used to alter the background of any selected display unit with ease.
With a single click or a desktop shortcut, you can change the resolution of several monitors or each of the monitors. MurGeeMon has many Windows 7 specific features which allow you to control any kind of display connected to your Windows 7.
You can get this software by paying $5 only in addition to the 30-day trial. It is easy to operate on either 32- or 64-bit Window versions. It will work efficiently on Windows 7, 8, 10, Vista, XP and other Windows Operating systems.
Features
· Enables you to easily and quickly download wallpaper from the internet and set it as a background image for your primary or secondary monitor.
· MurGeeMon enables you to change the desktop background to monitor background.
· You can set up two screensavers to be displayed on the primary and secondary monitors with MurGeeMon .
· You can also control the power of all monitors without searching for power buttons.
· With the system tray menu, you can easily and quickly enable or disable dual monitors connected to your PC.
The dual-monitor tools that have been listed above are the best tools you can trust for your dual monitor experience. To get started, don't hesitate to download the software that suits your immediate purpose and needs. The ball is now in your court. Enjoy!