Best Ways to Fix ERR_CACHE_MISS in Google Chrome in 2023 - Google Chrome has over 1 billion users. People use it for a variety of browsing.
The Rise of Google Chrome and Its Infamous ERR CACHE MISS
Be it for academic purposes , entertainment, or professional use, most of the people look up to Google Chrome. It has made the browsing easy. The users love it! But, does it mean that it is perfect?
Every good thing has its downsides, too. Similarly, the Google Chrome is also bounded by a certain features which the users often find annoying.

But, just because of its few downsides, you cannot say that using the app is not worth it. Using Google Chrome can benefit you in ways which you cannot think of.
To know about the amazing facts and figures of Google Chrome, navigate to the link.
What is ERR_CACHE_MISS in Google Chrome
If you are a Google Chrome user, you are more likely to face the ERR_CACHE_MISS pop up on your screen. It usually happens when the developers use false codes while checking their sites. It can also happen while navigating to a certain website.
It appears with a white blank page and a primary error message stating Confirm Form Resubmission. It is also followed by a sub-error message of ERR_CACHE_MISS.
There are more than just a reason behind this error. In this article, we will tell you all what you need to know about this error, including how to fix it, too.
What does it look like?
The message appears somewhat like this: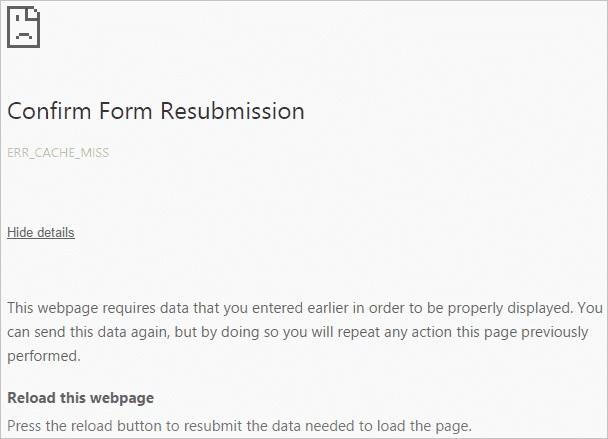 Generally, this error appears when there is an inconvenience in the caching system of the respective website.
Is ERR_CACHE_MISS and Confirm Form Resubmission the Same?
Yes, technically, they are same. The ERR_CACHE_MISS error is followed by the Confirm Form Resubmission.
Are the Fixing Methods Same for Both?
To an extent, yes. You would often see the same fixing methods for both of the dialogs. For example, clearing the cache.

What is a Caching System of a Website?
Caching refers to the temporary storage of a website, and a Web Cache is an information technology which used for it.
It can refer to either an appliance or to a computer program.
How does it work?
In order to make subsequent requests faster, the storing of reusable responses is termed as caching. At every level of a content's journey from the original server to the browser, caches are found .
It works by caching the HTTP responses for requests. It is done by following certain rules.
How to fix ERR_CACHE_MISS Error?
There is not a single problem in this world which does not have a solution. It is just about a little research and using your brains.
To make it easy for you to use Google Chrome, without any error dialog box showing up, we have sorted out a few method for you by using which, you can fix all the problems in regard to ERR_CACHE_MISS.
Following are the methods of fixing it.
Clearing the Browser Data
There is a fair chance of a data conflicting with the loading of the website. As easy at this fix might seem, it is just as usable and reliable, too.
All what you have to do is:
· Open Google Chrome.
· Press the Ctrl + H combination of keys on your keyboard.
· You would see the tool options opening. Now, select Disable Cache.
· Apply the respective settings.
· Refresh the page.
· Check if all the previous record of activity has been disappeared .
· If so, try to reload it, and see if you problem is fixed.
Following is the link for a better demonstration of clearing the browser data.
Flush the DNS Cache

By this process, the all the information stored in the cache will be removed, forcing the computer to find a new DNS information. Thus, it will also speed up the processes which you would later carry out on your windows.
· Open the Windows Command prompt.
· On WinXP , start and run it.
· Type cmd, and press Enter.
· If you are a user of Windows 7 or Windows 8, click Start.
· Type Command in the start search field.
· Right-click the command prompt icon.
· Select Run as Administrator option.
· In the open prompt, type ipconfig/flushdns .
· When the cache is cleared , you are likely to receive a confirmation message.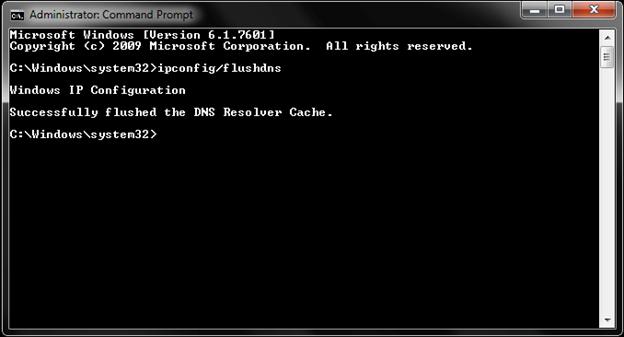 Following is the link to a proper demonstration of flushing the DNS cache.
Remove Conflicting Browser Extensions

As we mentioned it earlier, there is a fair chance of the browser extensions conflicting with the navigation. To fix it, just follow the easy steps which are mentioned below.
· Close the already opened Chrome windows.
· Open a new window.
· On the browser toolbar, click on the chrome menu.
· Click on Tools.
· Select Clear Browsing Data.
· A dialog box will appear. Select the following check boxes:
In recent versions: Cached images and files.
In old versions:

E

mpty the cache.
Delete the cookies and other site plug-in data.
· By using the menu at the top, select beginning of time.
· Click on Clear Browsing Data.
It might take a while for the files to get deleted, thus be patient.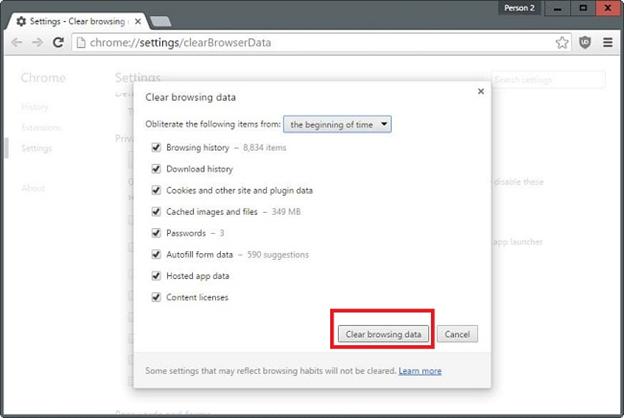 Go to this page to get a better insight of this method.
Using the Google Chrome Properties
· Open Google Chrome.
· When you see the shortcut icon, right-click on it.
· Soon after, you would see a dialog box appearing on your screen.
· Now, you would be able to see a field named as Target.

· To the end of the Target, add the text -disable-prompt-on- repost .
· For example, your target is:
"C:\Program Files (x86)\Google\Chrome\Application\chrome.exe"
· Make the following changes:
"C:\Program Files (x86)\Google\Chrome\Application\chrome.exe" -disable-prompt-on- repost
· In case the Google Chrome is already opened , close it.
· Open a new window by using the same shortcut.
· Refresh the webpage.
· Check if the dialog box reappears or not.
Disabling Motion across the Browser
A Google Chrome user introduced this method. According to him, this feature is supposed to be beneficial for the Chrome users.
The mistakenly done forward or backward movement on a page often becomes the primary reason for the ERR_CACHE_MISS dialog box to appear.
By disabling the sliding option to move forward or backward, such accidental movements will not cause the dialog box to appear, anymore.
Reset Chrome Browser Settings
· Open the Google Chrome browser.
· On the top right corner, you will see three dots, vertically placed.
· Click on the three dots.
· By following the above steps, you have successfully opened the control menu.
· Now, from the menu, click on the Settings option.
· Keep scrolling, and you will see Show Advanced Settings written on the menu.
By the time you have reached the end, you will see the option of restore settings to their original defaults.Click on it.
You can use the link below to better understand the respective method.
PRG Pattern
PRG is an acronym which is abbreviated as Pattern/Redirect/Get pattern . On a particular site, the forms which are asked to be submitted , come under the application of just the POST pattern. Thus, it becomes the reason behind the dialog box's appearance. Hence, it is important to get all the three of this pattern implemented.
Use the following link to know about the PRG pattern in detail.
Adding a Tag inside the Part
If the website, itself, has initiated the request, and it is the user who has refreshed the page, the method of adding a tag inside the would work.
Make sure that you are replacing it appropriately.
For example:
Is this Chrome's ERR_CACHE_MISS Dialog Box Considered as an Error?
Yes, in most of the cases, people tend to think of it as an error. Whereas, it is not such of an issue. When for a particular website, the cache is overused , it would also show you the same error. Due to the failure of DevTools in fetching the resource from cache , this error message is displayed .cache
Has there been any Report against ERR_CACHE_MISS?
As we said, people consider it to be a big deal. Hence, the reports are very obvious to be made against it.
Are these Methods Safe to Use?
Yes! Each method is safe to use. But, we would still like to suggest you to use it with your own consent. Although, we do not guarantee you that each of them would work for you, because it solely depends on your device and its requirements. Yet, we have tried our best to help you out.
We have always wanted to be there for you! We know how important is it for you to use Google Chrome in your daily life, be it for professional use or personal. That is why we have written this article for you so that you can avoid the factors which are bothering you.
Did you find out How to Fix ERR_CACHE_MISS in Google Chrome in 2023
If you did, then feel free to share the link with your friends, so that they would be helped out , too.
Leave your review, because it means so much to us! Tell us what else do you want us to write about, and we will try our best.

If you have any questions in regard to the fixing of ERR_CACHE_MISS error, feel free to ask.
Now, you can use Google Chrome without any disturbance.
Best of luck!