A fast and excellent download manager software is quite essential for Windows Operating Systems. These are third party applications that helps users to enjoy a good file downloading experience on the internet. No one wants to sit around waiting for hours to download an audio or video file.

A download manager can also be referred to as download accelerator because it helps boost the speed of downloading files. Files are mostly downloaded in parts when using a download manager which is known as parallel downloading.
Why is a Download Manager Necessary?!
There are several types of download manager software. These software are very useful because they come with several unique features.
You can export a download list.
You can schedule file downloads.
You can capture download links from web browsers.
Unlike the download feature in web browsers, download managers and accelerators have more features. This guide will introduce you to the best download manager software for Windows 10.
Types of Download Manager Software for Windows 10
Here is a list of the best download managers
1. Ninja Download Manager
2. Internet Download Manager
3. Free Download Manager
4. Internet Download Accelerator
5. EagleGet Download Accelerator
6. BitComet Download Manager
7. Xtreme Download Manager
8. FlareGet Download Manager
YouTube Video: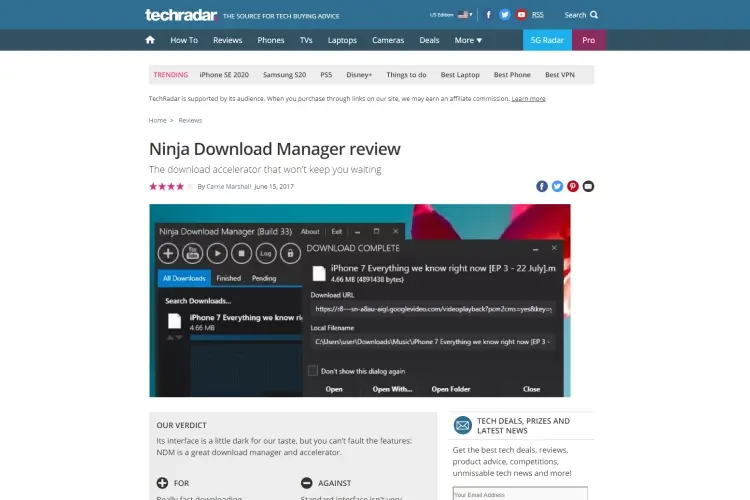 This is an amazing download manager software with a modern day user interface (UI). This modern user interface makes the appearance of Ninja Download Manager unique. It allows streaming and download of files in high quality.
I personally love this download manager because you can preview downloads in queue. This means, users can preview video or audio files while it is still downloading. This is made possible due to its sequential file writing feature. Ninja Download Manager have a pro version should you want to explore more options and features from its latest updates.
Major Benefits of Ninja Download Manager:
The user interface is excellent and easy to navigate.
It has an in-built media converter with tones of powerful features.
Users can preview audio/video files before the download is complete.
NOTE : The pro version of Ninja Download Manager cost $19.00 USD.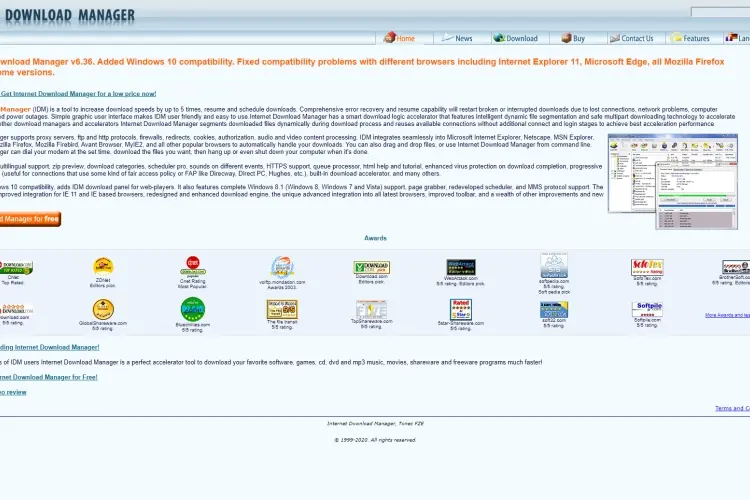 This is one of the best download managers available on the internet. IDM as many will prefer to call this software is a powerful downloader that increases the speed of file downloads by five times.
Internet Download Manager allows files to be downloaded in batch. This is a very reliable file download manager because it gives several download options such as pausing downloads and resuming at a later time. Not all download manager software have that feature.
Major Benefits of Internet Download Manager:
Download links can be copied from streaming websites.
File downloads are placed in queue with options to resume downloads.
IDM offers a free 30 days trial so as to enjoy the software before paying.
NOTE : Internet Download Manager charges $29.95 for its pro version.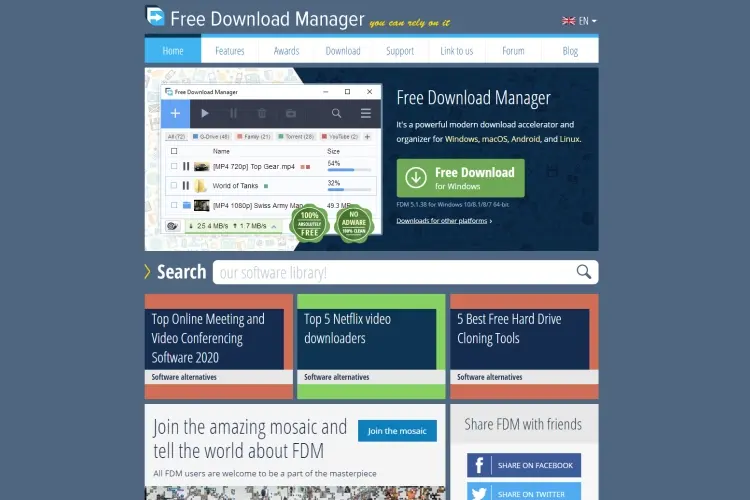 Just as the name implies, FDM is a free software for downloading files. It is a very good and reliable download manager that offers integration with most web browsers. It is one of the best file download managers on the internet.
This free download manager software is available on both Windows and Mac operating systems. It has series of amazing features such as different download management modes. This modes are specialized for light download to heavy download so as to free up bandwidth for the benefit of other applications on a system.
Major Benefits of Free Download Manager:
File downloads can be scheduled using FDM.
Torrent files can be dragged into an FDM window for download.
YouTube videos can be downloaded using FDM.
NOTE : It has a modern user interface and is absolutely free.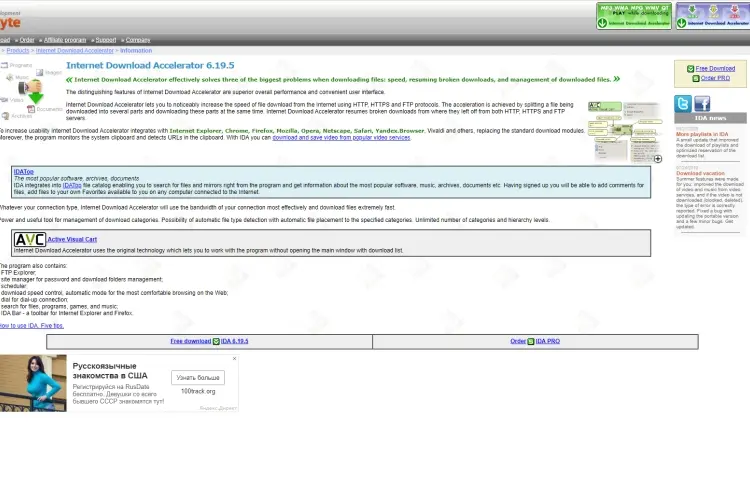 This download manager software was developed by WestByte, a company in Ukraine. IDA is a free software for downloading audio and video files on the internet. It has an inbuilt site manager that helps to save log in details such as username and passwords on certain websites.
There is a family version of the software that comes at a cost. This free download accelerator has a technical support with a floating window that reminds you of its presence on your PC. IDA also has a fast update schedule and provides integration for most web browsers such as Opera, Firefox, Chrome and Safari.
Major Benefits of Internet Download Accelerator:
Videos can be played while it is being downloaded.
RAR files can be previewed before downloading.
The family version helps remove ads and provide lifetime license.
NOTE : You can purchase Internet Download Accelerator for $24.95.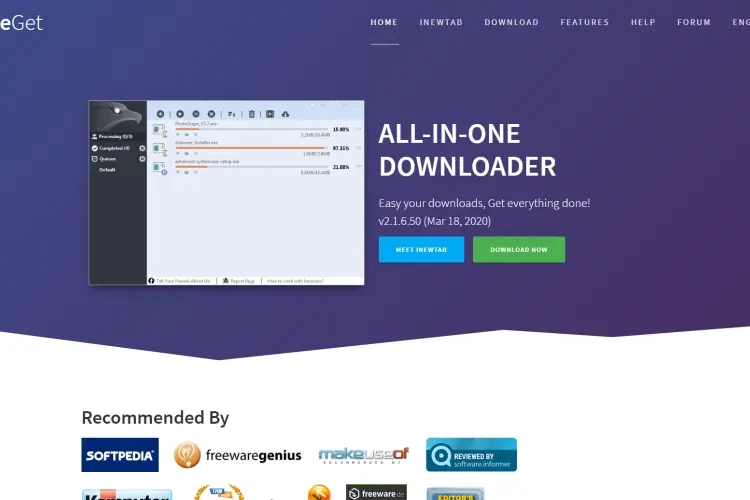 This is a unique file download accelerator for windows 10. It has an amazing user interface that can help you customize the background using custom images. It has a Media Grabber feature that allows you download video files from any site, including YouTube videos.
The video sniffer tool makes it one of the best file downloader for windows operating system. This tool helps you to download videos from the internet without a download link. It also has a perfect malware-checker feature.
Major Benefits of EagleGet Download Accelerator:
It has an "easy to access" basic features that makes it standout.
The stark user interface allows you to customize the themes.
It allows you scan downloaded files to check for malware.
NOTE : This download manager is absolutely free but supports ads.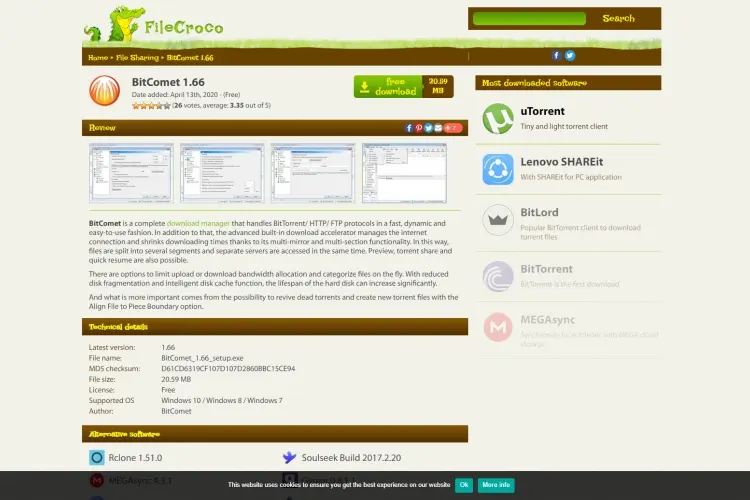 This is another free download manager we will like to recommend. It has a torrent downloader feature and also supports FTP and HTTP protocols. BitComet downloader is one of the best because it has all the essential features any download manager software should have.
The visual interface might not be as pleasing to the eye like the EagleGet Download Accelerator but it definitely offers a platform for easy file downloads. One of its unique feature is to keep on-going downloads in queue after shutting down your PC. You can then resume the download from where it stopped later.
Major Benefits of BitComet Download Manager:
BitComet offers seamless integration with most web browsers.
You can scan for virus after file downloads has been completed.
You can resume downloads after refreshing internet connection.
NOTE : BitComet Download Manager is free .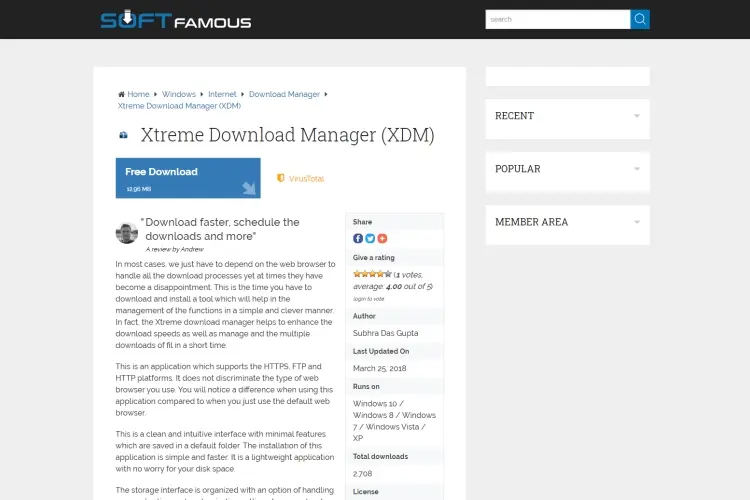 This is a powerful file downloader that supports File Transfer Protocol. XDM has an inbuilt video converter that helps to convert downloaded video files to any format. The maximum possible download speed can be six time faster than a regular download manager software.
Broken downloads caused by power failure or poor internet connection can be resumed at a later time. You can save streaming videos with this downloader because it integrates well with most web browsers such as Chrome and Firefox.
Major Benefits of Xtreme Download Manager:
XDM has a clipboard monitoring and download scheduler feature.
Downloaded files are automatically scanned for virus or malware.
Google videos and YouTube videos can be saved using XDM.
NOTE : It is free and supports all file types and most video streaming websites.
YouTube Video: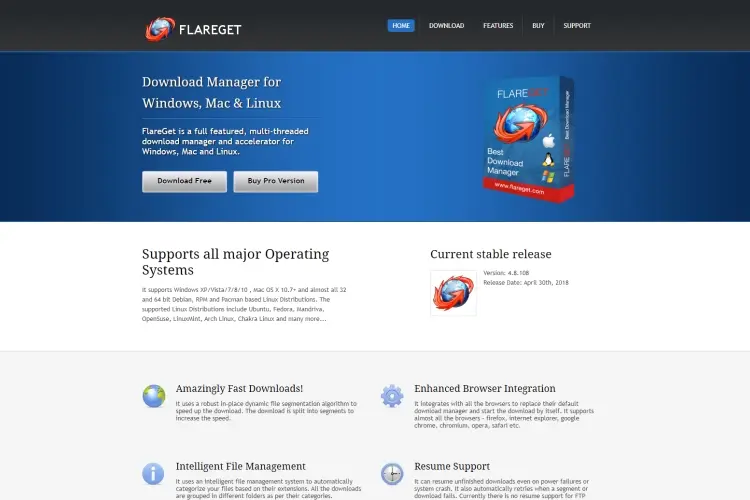 This is the final download manager software on our list. We specially recommend the use of this downloader for Windows 10 because it is an advanced multi-threaded download manager. It has series of download segment and also packed with several features.
It has a dynamic file segmentation that helps to speed up file downloads. There are 32 segments for every download and the auto segmentation feature allows the software to start the next download when one segment is completed. This feature helps to limit downloads.
Major Benefits of FlareGet Download Manager:
It has a multi-protocol support feature.
It has a multi-language support feature.
The advanced browser integration don't require URL to start downloads.
NOTE : It charges $5.00 to install and offers a 30 days money back guarantee.
Conclusion
Many of the listed download manager software are free to use but some of them comes with a paid pro version that allows you to enjoy even much more features. So, if you are willing to spend some money ensure you go for some of the best file download managers available for Windows 10.
The year is 2023 and downloading audio or video files on the internet through the use of web browsers seems arcade. It is important to get the best download manager for your personal computer. With a good download manager, you can pause and resume downloads which makes the download of files easy and flexible. Download managers also makes the download speed of files from websites faster. There are other download manager software for Windows Operating System such as Free Rapid Downloader, uGet download Manager, J-Downloader 2 and MultiGet File Downloader but the ones listed in this article are the ones we highly recommend. Ensure you check them out and share this article with your friends and family. We believe it can be very useful for them.
YouTube Video:
Share your thoughts in the comment section. Let us know about your favorite and other download manager software for Windows operating system.